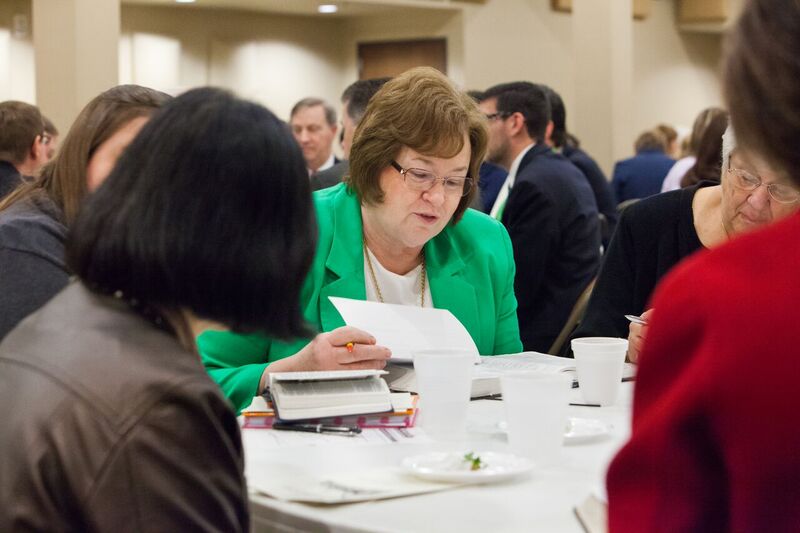 Adult Bible Fellowship (ABF) is specifically designed to promote edifying relationships in the context of small group Bible studies. Each school year on Sundays at 11 a.m., groups of 8-9 men or women with various ages meet together for prayer and Bible Study in the Fellowship Hall. Every group member is encouraged to participate in a discussion led by a facilitator on the weekly lesson.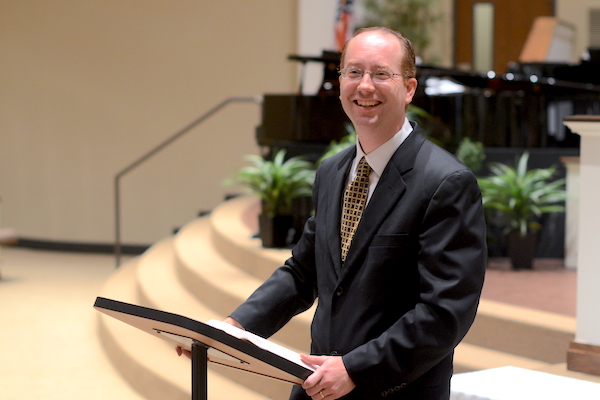 Our Adult Bible Class meets in the auditorium and follows a Sunday School lecture style format designed to stimulate spiritual growth and love for God's Word. Our teachers, Dr. Randy Jaeggli and Dr. Brian Hand alternate teaching responsibilities to provide expositional in-depth bible teaching with series that last about four months in length. The fall session focuses on the New Testament and the Spring session on the Old Testament.
Biblical Edification
Lovingly communicating biblical truth to other Christians so that we become like Christ.
The purpose of ABF (Adult Bible Fellowship) is to promote biblical edification within our church family. As the writer of Hebrews states, "And let us consider how to stir up one another to love and good works, not neglecting to meet together, as is the habit of some, but encouraging one another, and all the more as you see the Day drawing near" (Heb. 10:24-25). This fellowship opportunity involves year-long relationships centered on praying for one another and applying God's Word to our lives. The apostle Paul confirms this priority when he says to the church at Rome, "For I long to see you, that I may impart to you some spiritual gift to strengthen you—that is, that we may be mutually encouraged by each other's faith, both yours and mine" (Rom. 1:11-12). While this is a challenging task to undertake, we look to the example of the early church who, in Acts 2, devoted themselves to this process of biblical edification by making God's Word central in their daily lives and God's people central in their concern. They not only heard the truth of God's Word, but they allowed it to transform their lives throughout the week.
Each ABF group has a table leader who focuses on building relationships within the table to better pray for, encourage, and keep each other accountable. Many groups communicate throughout the week and seek to meet each other's practical and spiritual needs. Table facilitators—rotating every nine weeks—lead a discussion about the lesson and ensure accurate, practical application of Scripture to life. The weekly lessons are prepared by the pastoral staff and consist of three sections—observe, interpret, and respond—designed to help us understand and grow in our understanding and application of God's Word. Group members are encouraged to study the lesson throughout the week to be prepared for the discussion. There are four sessions that run throughout the school year, often including topical, expositional (verse-by-verse), or character studies. The relationships formed within ABF and the opportunity to learn from others through discussion are often spoken of as one of the highlights of our community at Cornerstone.
The Adult Bible Seminar is a Bible study class held in the auditorium on Sundays at 11 a.m. throughout the school year.  The class follows a lecture style, typically working through a study in the New Testament throughout the fall and the Old Testament in the spring. Our teachers, Dr. Randy Jaeggli and Dr. Brian Hand, are exceptional in their expositional teaching and their ability to bring the Bible to life through explanations of biblical culture and customs to understand biblical truths. Always practical, you'll be challenged each week to align your thinking and actions with God's Word. To listen to previous seminar series, follow the links below.
Old Testament Series – Dr. Randy Jaeggli
New Testament Series – Dr. Brian Hand